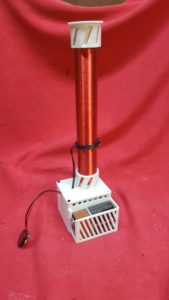 Slayer Mini Tesla Coils 
This is a mini Slayer Exciter Tesla Coil. Hand made in the U.S.A. This comes just as pictured with the coil wound and a finished circuit board. All you have to do is connect a battery.  Stands 8 1/4 inches tall with 5 3/4 inches of magnet wire on the coil. It prduces a large amount of energy to the area in which it is being used to help the Spirits to communicate. This has no moving parts so unlike some EM Pumps that are noisey, there is NO NOISE from this.
******SLAYER EXCITER DISCLAIMER  WARNING: You must be 18 years or older to purchase this product. If running at higher voltages this product can be a fire hazard. This product is for educational purposes only. It is not meant to replace any conventional lighting method. Do NOT use around any sensitive electronics, children or pets. Please be aware and follow any FCC regulations in your area. By purchasing this product YOU AGREE to this disclaimer AND TAKE FULL RESPONSIBILITY for any mishap that may happen when using this product this includes but is not limited to any health or property damages that may arise from using this product. THE SELLER DOES NOT ASSUME ANY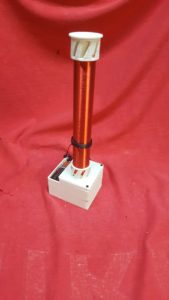 RESPONSIBILITY OR LIABILITY FOR THIS PRODUCT. THIS PRODUCT IS SOLD "AS IS" WITH NO WARRANTY OR LIABILITIES. THE BUYER ASSUMES ALL RESPONSIBILITY FOR THIS PRODUCT'S USE. *PURCHASER AGREES TO HOLD SELLER "HARMLESS".*
Ship Time is 2-3 weeks from order date.
We do not guarantee Spirit Communication
$66.95